G2 1/2" Right Angle Pulse Valve/Pulse Valve/ SOLENOID Valve
G2 1/2" Right Angle Pulse Valve- SOLENOID Valve, specially for dust collector service applications, an alternative valve of Asco pulse valve.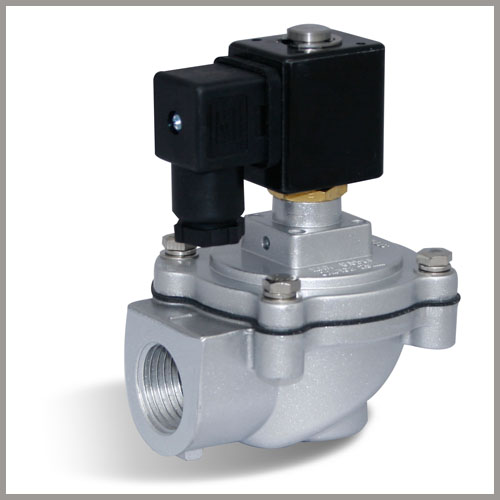 1. Specs Of G2 1/2" Right Angle Pulse Valve- SOLENOID Valve
Right Angle SOLENOID VALVES

Model No.

SIIC-A-Z-62

Operating Pressure

0.3-0.8Mpa

Ambient Temperaure

-5~55℃

Relative Humidity

<85%

Fluid

Clean Air

Voltage

AC110V/AC220V/DC24V

Electric Current

0.46A/0.23A/0.8A±10%

Diaphragm Life

Over One Million Cycles

Diameter

Ø62

Port Size

G2 1/2"
2. Usages Of G2 1/2" Right Angle Pulse Valve- SOLENOID Valve
Solenoid pulse valve (also called diaphragm valve)is the compressed air "switch" of the pulse bag filter soot blowing system. Under the control of the pulse control output signal, the filter bag row (room) blowing soot cleaning, keeping the filter resistance in a set area, to ensure the processing capacity of dust collector and dust collecting efficiency.
Z-type pulse valve is the right angle valve, the angle is 90 degrees between import and export hole, it is suitable for the air and spraying torch installment links, air flow, can provide to meet the requirements.
Y-type pulse valve is submerged valve (also called an embedded valve), it is directly installed on the air bag with better flow characteristics. And the pressure will reduce, is suitable for the low pressure workable.
3. Working principle of G2 1/2" Right Angle Pulse Valve- SOLENOID Valve
Diaphragm solenoid pulse valve is divided into front and rear air chamber, when turn on the compressed air, compressed air through the throttling hole into the rear chamber, the rear chamber pressure will be close to the outlet valve, diaphragm solenoid pulse valve in the "off" state. Pulse control of electric signal makes the pulse valve moving armature, the rear chamber air hole will open and will close the pressure quickly. Diaphragm backward-shift, compressed air blowing through the valve output, pulse in the "open" state. Pulse injection control instrument signal disappears, armature reset solenoid pulse valve, air chamber after the vent hole closed, the air chamber pressure make the diaphragm valve outlet and solenoid pulse valve is in the "off" state.