Fiberglass Sewing Thread /Filter Bag Sewing Thread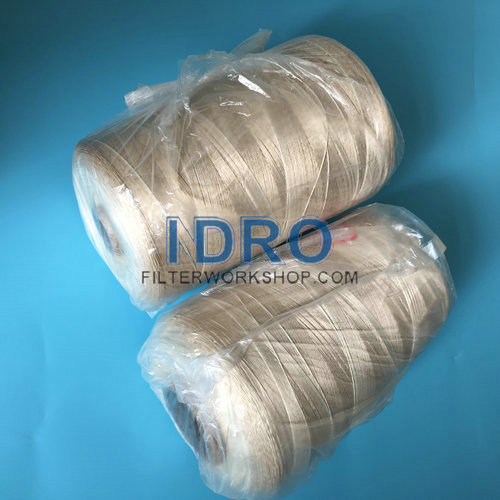 1. Detailed Description Of Fiberglass Sewing Thread
Material: 100% Multi Glass yarn
Colour: white or golden
Working Temperature: 260-300 deg C
2. Features Of Fiberglass Sewing Thread
-100% Multi Glass yarn
- white or golden
-Special for sewing fiberglass filter bag.
3. Technical Data of Fiberglass Sewing Thread
Data Sheet Of Fiberglass Thread

Material:

100% Glass

Construction:

Multi Glass yarn

Chemical treatment

PTFE dipping coated

Tensile(N/625px)

132

Elongation(%)

<3

Shrinkage(@260℃ 90 min)

<1%

Acid resistance

General

Alkali resistance

excellent

Oxidation resistance

excellent

Hydrolyze resistance

excellent

Working Tem(℃)

240-260

Surge Tem(℃)

280

Length per kg(m):

3800

Application:

fiberglass filter bag sewing
4. Applications Of Fiberglass Sewing Thread
Sewing Fiberglass filter bags.
Shanghai Filterworkshop Co., Ltd(Shanghai Indro Industry Co., Ltd) is one of China filter bag sewing thread manufacturers and supplies, is making and supplying China ptfe sewing thread, fiberglass sewing thread, polyester sewing thread and nomex aramid sewing thread for filter bags with good quality and good prices.