Polypropylene microporous membrane pleated filter cartridges
Polypropylene filter cartridge is a fixed hole-diameter deep filtration cartridge with ultrafine polypropylene fiber as filter medium, and the filter material meets the requirements of FDA. The filtration accuracy ranges from 0.1um to 60 um. Its unique features of low pressure differential, high flux and long service life are the preferred products for pre filtration. The polypropylene structure has stable properties and wide chemical compatibility.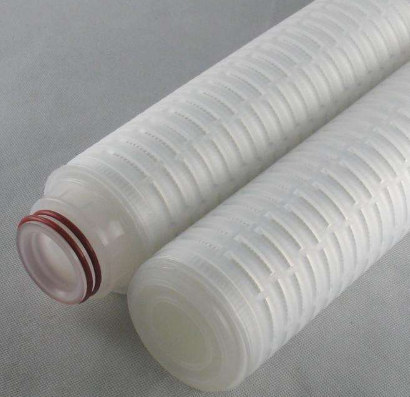 Specs and tech-data:
Filter media: polypropylene fiber membrane
Up and down support material: Polypropylene
Support and structural elements: Polypropylene
Filtration accuracy: 0.1, 0.2, 0.45, 0.65, 1, 2, 3, 5, 10, 20, 30, and 30 (UM).
Filter core length: 4 ", 5", 10 ", 20", 30 ", 40"
Sealing material: silicone rubber, butadiene rubber, three ethylene propylene rubber, fluorine rubber.
Closed mode: hot-melt welding
Effective filtration area: 0.4 ~ 0.7 m2/10 "
Filter core diameter: 69 mm
Maximum working temperature: 80 centigrade, 0.28MPa
Maximum positive pressure difference: 0.42MPa (25 C)
Maximum counter pressure difference: 0.28MPa (25 C)
Sterilization conditions: 121 centigrade 30 min
Typical applications:
Pharmaceutical industry: filtration of liquid medicine, cell debris, biological products and so on.
Chemical industry: filtration of organic solvents, chemical reagents, inks, electroplating liquids, etc.
Food industry: drinking water, mineral water, beverages, beer, wine, fruit wine and other filtration.
Electronics industry: pre filtration of reverse osmosis water system, pre filtration of deionized water system.
Gas filtration: filtration of compressed air, nitrogen and carbon dioxide.
Other industries: photosensitive resist, magnetic medium and so on.
Pure water flow reference table: 10" initial value of filter element L/min (△P=0.01MPa, 1 centigrade viscosity, 25 C)
Micron um

0.1

0.2

0.45

0.65

1

2

3

5

10

20

30

60

Flow

L/min

5

15

40

55

60

65

65

67

70

75

78

80
The polypropylene microporous membrane pleated filter cartridges making process including filter paper pleating, filter cartridge cap welding, filter cartridge length connector welding, filter cartridge fitting ends welding, filter cartridge middle seam welding and filter cartridge length cutting. Shanghai Indro Industry Co., Ltd manufacturers and supply whole production line of liquid filtration pleated filter cartridges.