Round Filter Bag Cages
Item Code: SIIC-FC-R
Round filter bags cages are special for supporting round filter bags and sleeves used in dust collector bag house.
1. Data
Filter bag cage type: round shape
Number of vertical wire: 8/10/12/16/20/24 vertical wires
Supporting ring space: Ring spacing standard is 6inch-8inch (15.24cm-20.32cm), other can be custom made as per your requirement.
Cage diameter: common diameters are from 4 inch to 8 inch (100mm to 200mm), other diameter can be custom made as per your requirement.
Cage length: common lengths include 84inch (2133.6mm), 96inch (2438.4mm), 120inch (3048mm) and 144inch (3657.6mm), other length can be custom made as per your requirement.
Wire thickness: Wire thickness ranges are 2 mm to 5 mm
Material: Carbon steel, stainless steel-SS304/316
Finish treatment: Pre-galvanized, galvanized, epoxy
Packaging: Cages are packed in metal frame or woven bag, or other special package method as per your requirement.
Common sizes of round filter bags(sleeves) and cages:
Common sizes of round filter bags(sleeves) and cages
Round filter cages diameter(mm)
Round filter bags(sleeves) diameter(mm)
Length(mm)
115
120
2000,2400, 2800,
3200,3600,4000,
4400,4800,5200,
5600,6000,7000
125
130
147
152
195
200
Round filter bag top and bottom types:
Top: common round flanged top with venturi, common round flanged top without venturi, split cage top.
Bottom: plain pan welded bottom or lacy pan welded bottom.


Joints type of very long filter bag cages:
For long dust collector cages, one complete piece of cage normally includes several sections connected with joints in the middle, available joints: guide plate, claw, clamp and chuck joints.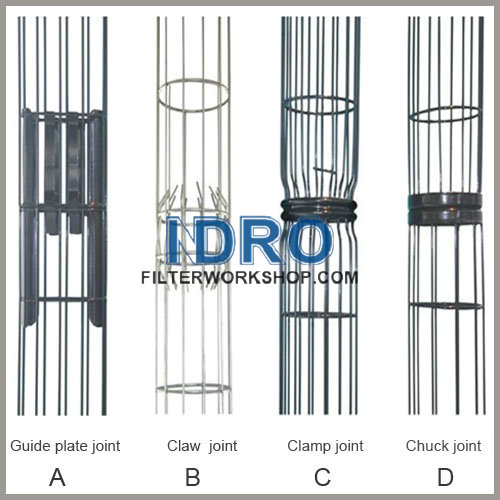 2. Features
-no corrosion
-no damage
-economical maintenance (almost no maintenance required)
-prominent effect in removing dust from filter by pulsing
-easy to install
3. Applications
Round filter bag cages are one of important replacements for dust collector system, they are to support filter sleeves, widely used in industries of steel, chemical, waste incineration, cement, construction material, thermoelectricity, asphalt, carbon black, flour plant and other industries.
4. Our production capacity of round filter-bag cages
Stainless steel filter cages: 35000pcs per month
Galvanized filter cages: 25000pcs per month