Why material blocking and paste bag of baghouse filter bags at the top of cement bunker?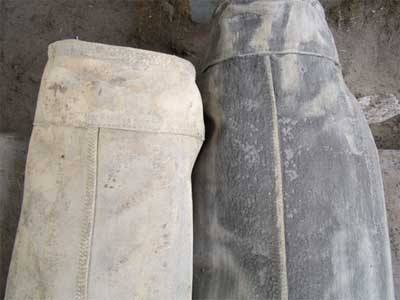 The reasons for material blocking and paste filter bags are as followings:
Because the baghouse dust collector at top of cement bunker only opens when feeding, the bag type dust collector at top cement bunker which has no feeding stock is in a state of discontinuation. But the material must go through the front storeroom to reach the designated repository to complete the storage. For example, when the cement material is to enter the No. 5 storeroom, it is necessary to be sent through air chute to pass through the 1~4 storeroom, then enter into No.5 storeroom, while the baghouse dust collector at the tops of the previous 4 tanks is stopped. The air transport chute should be driven by the inclined slot fan, and the positive pressure is generated in the chute. So there will be cement dust particles enter the above shell of the top bag dust collector inside the shell through dust removal duct connected to the air conveying chute.
A part of cement dusts are hanged on the outer surface of filter bags, and a part of dusts fall into ask bucket, and some will fall in the pipeline caused by accumulation. Because of the causes of production and sales, some cement banks do not feed for 1~2 month time, so the baghouse and dust collector on the top of these tanks will not open for a long time. Cement dust which fall into dust collector will be damped and coagulate, which cause dust remover filter bags paste, the air inlet pipe plugging, feed hopper caking.
When the bag dust collector open again, they cannot run normally, finally to make sure bag filters run normally, you will have to clean hopper and do replacement of filter bags.
When the cement storehouse is discharging, only the bag dust collector at the bottom of the material is opened, but the top of the library is not open, when the cement storeroom is discharged, positive pressure is generated in the storehouse. There will be cement dust particles coming into the dust collector shell through the dust collecting duct connected to the top of the storehouse, and this phenomenon (filter bags paste and material blocking) will happen after long time. Similarly, when feeding the storage bucket, lift the bag dust collector at the head wheel, because it is interlocked with the bucket elevator, no matter what the feed should be opened, the duster has never had a paste or block material for filter bags.