The difference between filter bags PTFE membrane and PTFE finish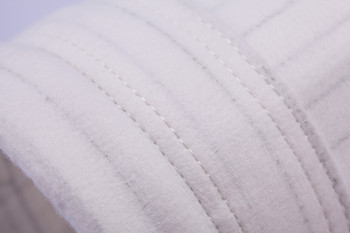 Is there difference between filter bags PTFE membrane and PTFE finish?
Yes, there is a difference between the two. PTFE membrane is used to increase collection efficiency and PTFE finish is used primarily for protecting the filter bags from chemical attack.
What Are PTFE Membrane Filter Bags?
PTFE membrane is semi-porous layer of PTFE bonded to the surface of a filter. This membrane acts at a permanent dust cake, capturing incoming dust particles (i.e. particulate matter or PM 2.5) on the surface of the filter (surface filtration) as opposed to normal filters that require a thick layer of dust buildup (dust cake) to actually reach peak efficiency. This means that PTFE membrane bags can operate at peak collection efficiency from the moment they are installed, and do not need to be pre-coated. Overtime, the membrane also works against the dust penetrating deep into the depth of the filter fabric, which is the cause of filter blinding. For this reason, PTFE membrane bags often last considerably longer than standard filter bags and have a more consistent differential pressure over time.
SIIC filter bags with PTFE membrane have the highest collection efficiency of all filters in production today. Bags using membrane technology can collect particulate matter down to 2.5 microns in size at over 99.99% efficiency. For this reason, in the applications with very tight emissions requirements, PTFE membrane filters are the standard.
Membrane bags are not recommended for a few limited applications, usually involving oils and hydrocarbons are these can close off the pores of the membrane and cause the filter to plug up.
What Are Filter Bags with PTFE Finish or Treatment?
In this use of PTFE, rather than creating a surface layer or membrane on top of the filter, the filter fabric is coated in a bath or spray of liquid polytetrafluoroethylene (PTFE) resin. This is done to protect the filter. The treatment improves the flex life, heat and chemical resistance and dust release from the fabric. This increases the service life and efficiency of the filters. Filter bag with PTFE finish is commonly used in applications with corrosive chemical compounds, sticky dusts, or high moisture contents.