The environment has paid a high price for China's high economic growth. There are two aspects to the environmental damage.
The first is the increase in air and water pollution.
The second is the increase in carbon emissions.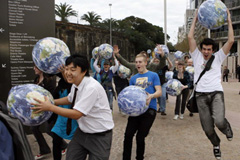 For a large and still developing country like China, adopting policies for protecting the environment has implications for economic growth.
For consumers and households, protecting the environment means adopting less-polluting lifestyles through conscious efforts for not polluting surroundings and using less carbon- and energy-intensive appliances.
To control air and water pollution, all of the factories in industries of cement, thermal-power station, steel, chemical, carbon black, waste incineration and other are using high standard dust collector filter bags/cages and high standard liquid filter bags.
With the strengthening of people's awareness of environmental protection, under a unified China government appeal, to make the sky bluer and the water more clear, all enterprises in China are improving their environmental protection facilities in consciousness, while creating economic growth, but also do the work of energy-saving emission reduction.