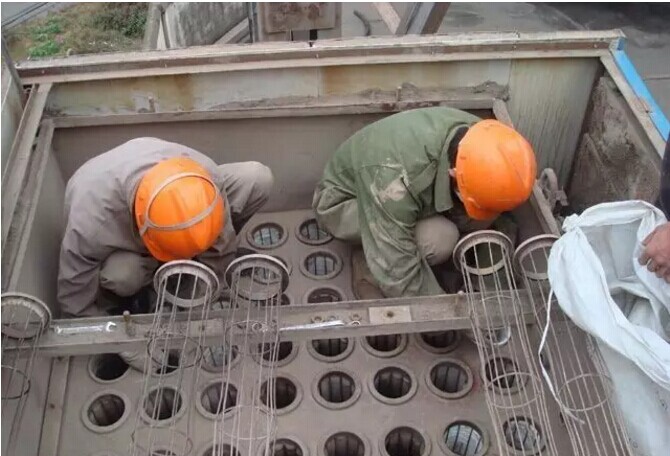 Generally, the filter bags are gradually wear. The factors caused filter bag wear are: grinding force of dust particle, the filter clothing changing due to high temperature, corrosion of chemical media, high filtering speed also caused filter bag wear or damaged.
When the dust particle grinding force is becoming stronger, the filter bag bottom will be badly wear.
The wear filter bag cannot be used in bag dust collector, or else it will cause bag filter damaged.
When some filter bags wear in very small area, new filter cloth can be used to make up the damaged holes. The method is using organic silicon rubber mixture to bond. And it is will be fine as long as the binder meet the working condition, such as temperature, chemical resistance.
When most of filter bag wear, all the filter bags shall be replaced(After long time using, the build up of fine dust makes the air permeability of filter cloth lower, this affects the air flow. Then although several filter bags are not wear or damaged, they shall be replaced as well). Better stop the dust collector when replacing the filter bags, also shut down the controller of dust cleaning. Open the manhole door on the top, unload the filter bag. Take out the filter cage, knead the snap band (at the filter bag top)into concave, pull up the filter bag. Before installing the new filter bag, clean up the tube holes.
Method of installing of filter bag and filter bag cage:
The installation of filter bag and filter bag cage is the most carful and serious job among all the installation of the whole dust collector system. So it is at the final step.
During filter bag installation, the filter bag cannot touch the hard or sharp object or be cut. Even very small scratch will make using life shorter.
Pass the filter bag bottom through the cell plate hole at the air box and put it into the bag room, then knead the snap band into concave, put it into tube sheet hole and make snap band back into round shape and press around the cell plate hole tightly. Finally insert the filter cage into the filter bag slightly, until the protective cover of filter cage press the tube hole deeply. To avoid the filter bag damaged, better install one filter cage after one filter bag is installed.
If the bag filter cannot be stopped during filter bag /cage replacement, shall separate the room and make if off-line, then replace the filter bag room by room. In the room which is separated, the lift valve is working off and the pulse jet valve is working off as well(better shut down the power). During unload the filter bag, be careful not let bag fall into the ash bucket, because there is small negative voltage at the bag top.