About 25 micron filter bags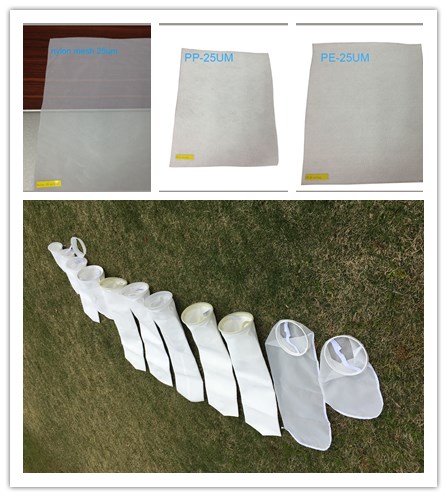 As one of industrial filter bags manufacturers and suppliers, Shanghai Indro Industry Co., Ltd is very glad to introduce you about 25 micron filter bags.
-Material:
25 micron rating PP (polypropylene)/PE (polyester) felt, monofilament nylon mesh (NMO)
-Filtration Precision:
25 micron, which means the hole size is 25 micron
-Structure:
Welded filter bag body and plastic ring top
Stitched filter bag body and metal ring top or plastic ring top or drawstring top or other top
-Size:
7*17", 7*32", 4*9", 4*15", 6*22" and other size.
-Applications:
Shanghai Indro Industry Co., Ltd is manufacturer and supplier of industrial filter bags with 0.2-1500 micron rating. For more information of 25 micron filter bags, industrial filter bags, such as prices, delivery or other, please visit www.filterworkshop.com.
SIIC 25 micron filter bags are special used for filtering particles in size larger than 25 micron. 25 micron filter bags are widely used in electronics, semiconductor, chemical, pharmaceutical, food, beverages, advanced coatings & photo emulsions, paints & coatings, paper industry, automobile manufacturing, ink printing, resins, chemical processing, oil & gas, water treatment, aquarium filtration, swimming pool filtration and other industry.